2022 CANADIAN REGIONAL AEROPRESS CHAMPIONSHIPS
The rumours are true, we are bringing the AeroPress Championships to Vancouver and Toronto leading up to the World Final this December 1–3.

The AeroPress Championship is an accessible and fun coffee competition where brewers go head to head in an elimination style tournament to make the best cup of coffee using only their trusty plastic brewers and a bag of coffee.


THE WAC WORLD FINAL COMES TO CANADA
For the first time ever, a world level coffee competition is being held in our country (no big deal, right?). The World AeroPress Championship World Final will take place over three days in Vancouver, BC with 60 of the world's top brewers battling for the world title.

/ ATTEND AS A BACKSEAT GAMER
Spectator tickets for the Toronto and Vancouver regionals are a sliding scale to pay what you can to attend!

All funds raised go towards putting on the event and sending the winners to the National Championship. Suggested price is $10 but no pressure (pun fully intended here).

/ TORONTO
co-hosted with Bevy Space + The Roasters Pack
DATE=
Thursday, September 29, 2022

LOCATION=
Bevy Space

TIME=
Doors @ 5:30PM — First round @ 6PM

DETAILS=
27 players go head-to-head in an elimination brewing tournament. Play Leaderboard live and win prizes. Music by Dom Dias. Chocolate tastings by Rebel Chocolate, Kombucha tastings by OK Kombucha, drinks by Bevy Space, snacks by Butter & Blue.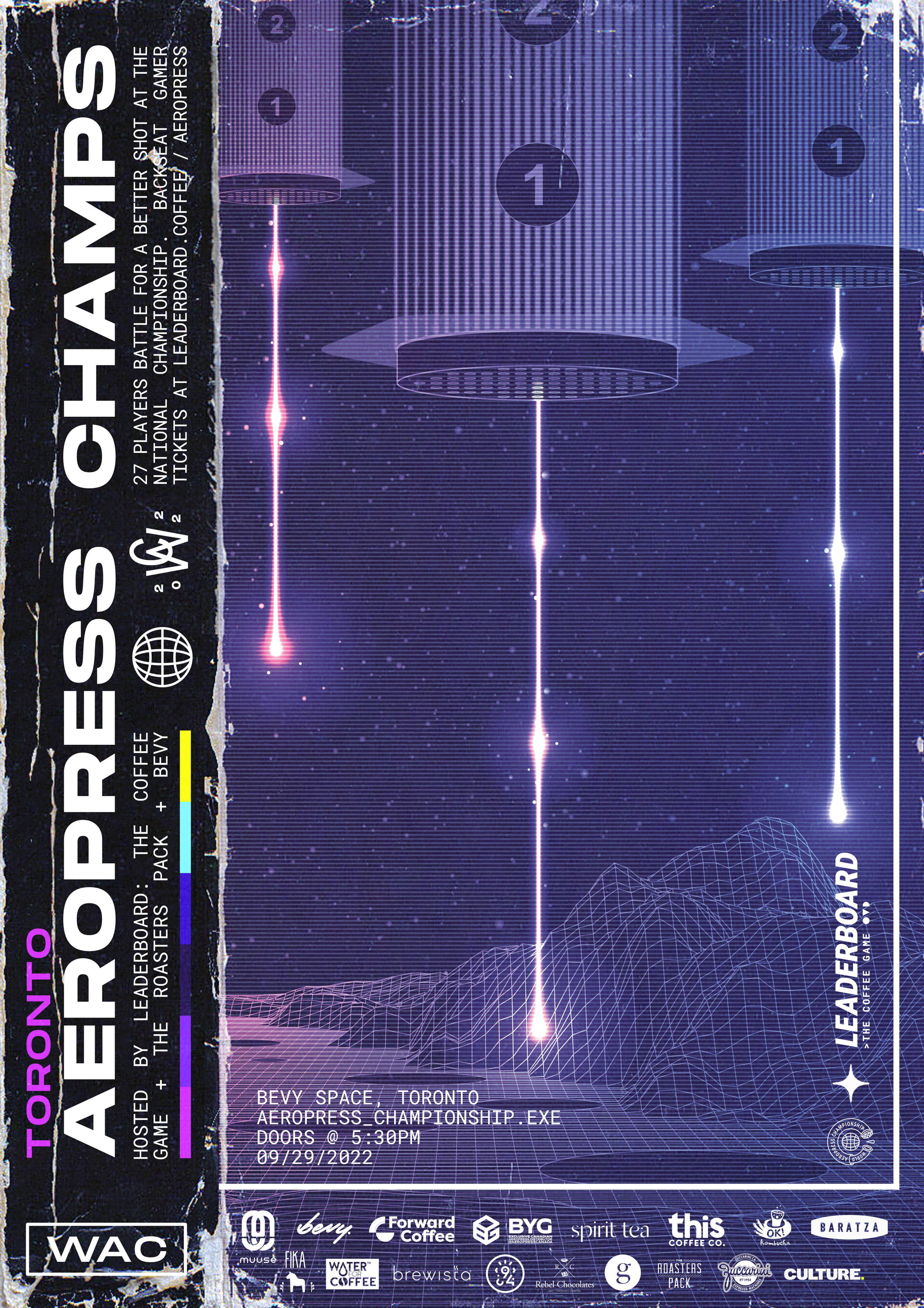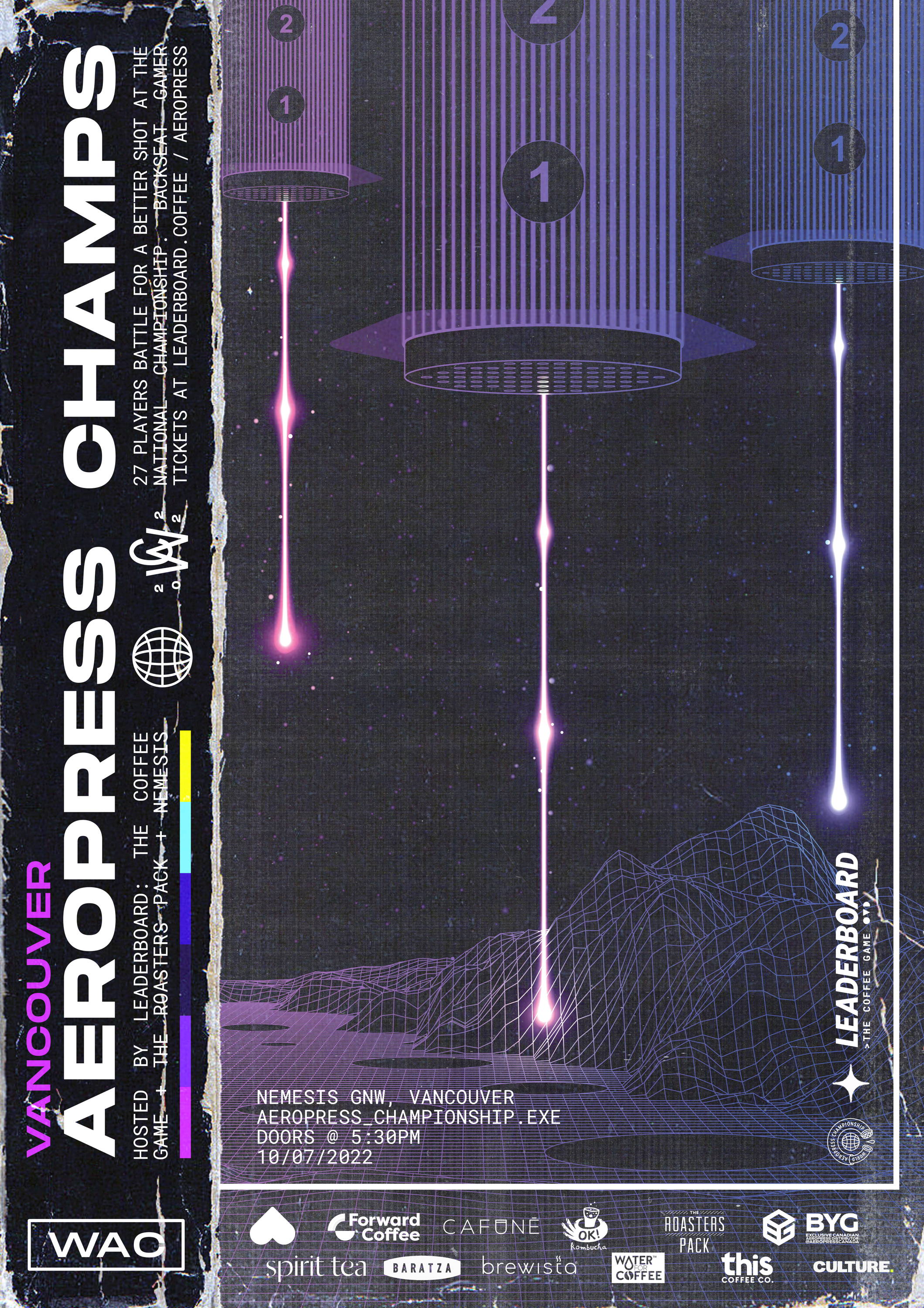 / VANCOUVER
co-hosted with Nemesis Coffee + The Roasters Pack
DATE=
Friday, October 7, 2022

LOCATION=
Nemesis Coffee GNW

TIME=
Doors @ 5:30PM — First round @ 6PM

DETAILS=
27 players go head-to-head in an elimination brewing tournament. Play Leaderboard live and win prizes. Music by East Boulevard Records. Food + Drinks by Nemesis. $5 drinks and $5-$10 plates.

The rules are simple.

All players use the same coffee and have 5 minutes to brew the best cup using a genuine AeroPress brewer. Players may use a maximum of 18g of coffee and must present a minimum of 150ml of brewed coffee.

Judges will assess blindly, based solely on taste and point to the best cup to cast their vote. The winner moves on to the next round until only one champion remains!

Last update 09/19/2022 @ 11AM
What is the Championship Coffee and when will I receive it?
This Coffee Co is roasting the official championship coffee, which has already been mailed directly to you. You'll receive two bags (and some extra goodies) in your competitor box to practice with and build your recipe. On the day of the competition, you'll receive one final bag to compete with from the same batch/roast date.
In the spirit of Leaderboard, the coffee will remain a mystery and you'll be able to submit your best guess about origin, process, variety etc. a few days before the competition for a chance at some extra prizes! We'd like to thank Forward Coffee for providing the green coffee — you are all in for a treat.
What is the roast date of the championship coffee?
September 15, 2022 for both Vancouver and Toronto. The coffee you are practicing with is the same batch that you'll be competing with (because consistency is 🔑).
Can I order more of the coffee to practice with?
No. All players receive the same amount to maintain fairness. Be sure to make every brew count!
What restrictions are there on my recipe?
As per the Official WAC Rules, you may only use a maximum of 18g of ground coffee and must serve a minimum of 150ml of brewed coffee to the judges.
Yes, you can use the bypass method (diluting coffee before serving) so long as you serve at least 150ml of brewed coffee to the judges.
Can I brew with less water and dilute/bypass afterwards?
Can I brew with an AeroPress Go?
Yes! So long as all of the parts are genuine AeroPress parts (no custom caps etc).
Can I use two AeroPresses for my recipe?
Generally, the recipes that win are the simplest – so do keep this in mind. You can use two AeroPresses, however each brew much use a maximum of 18g ground coffee, and minimum 150ml of brewed coffee prior to mixing (if that is your aim).
Equipment – what can or can't I use?
You may only use one (1) kettle during competition and one (1) grinder. You are free to bring your own electric grinder, however you will need to pre-grind coffee off-stage prior to your round.
Competitors are expected to use their own equipment (AeroPress, scale, grinder, carafe etc), with the exception of the sponsored Brewista Gooseneck kettles and vessel that you'll be using to serve your brewed coffee to the judges.
You may use your own kettle, but you can also save some space and use the ones provided (they're great!).
You may brew into your own vessel and pour into the provided cup.
Do I have access to power on stage to keep my kettle's temperature consistent?
Yes, you have access to one single outlet for your kettle (we will also have kettles for you to use if you prefer).
You are welcome to bring your own water if you prefer to use a specific mineral composition, otherwise we'll be using water from the venue.
What's the difference between preparation time and competition time?
Before your round begins, you will have five (5) minutes to prepare your station on stage. You may organize your station, pre-grind your coffee and pre-heat your kettle during this time. You may not pre-wet your filter or begin the brewing process. This will result in an immediate disqualification. No exceptions.
When the round starts, you will have five (5) minutes to brew your coffee and serve into the provided cup. If you have not completed and served your coffee in this time period you will not advance to the next round.
What's the prize for the winner?
If you win, you'll get a flight and two nights accomodation to compete in the National championship in Calgary with a bypass card to go straight to semi-finals. You'll also get entry into S8 of Leaderboard, prizes from our sponsors, and all of the glory imagineable.
Can I bring my coach or someone for emotional support?
You are allowed to bring one (1) coach or emotional support human to help you prep and carry things, but they need to register to attend the same way a spectator would. They can register to attend here and will need to show proof of purchase upon arrival.
What can I bring with me to the championship?
Competitors are allowed to bring one (1) small-medium sized box or bag to carry their gear and store on-site.
We need to be respectful of our venue and their space, so if a competitor arrives with three bags worth of gear they will be disqualified. Please abide by this rule to avoid dissappointment. We will have a dedicated space for competitor belongings, however we take no responsibility for loss or damage of competitor property.
What time do competitors need to arrive?
You will need to arrive between 4:45 – 5:00 pm for orientation. If you are not present for orientation you will forfeit your space. 
Doors to the public at 5:30PM and first round at 6PM.
What should I do to prepare for the championship?
First of all – be sure to check your emails for updates from us, read all of the rules to avoid disappointent and remember that the AeroPress Championship was created to be fun and inclusive. It's not all that serious :)
If you're looking for some tips on recipe building, check out the winning recipes from previous championships, or surf YouTube for an endless stream of videos on recipe building.
Can I use a melo drip for water distribution?
Yes! So long as you are using a genuine AeroPress, how the water and coffee enters the press is totally up to you.
Yes, you can use a sifter for your ground coffee as well.
Can I bring friends with me to orientation?
As mentioned above, you can bring one (1) coach or emotional support human with you. Orientation is for you to get familiar with the flow of the competition and make sure you're prepared to take part in the greatest tournament of all time. Your friends can arrive when doors open at 5:30 to cheer you on!