Current season of Leaderboard: The Coffee Game. S12 begins shipping October 17th >>>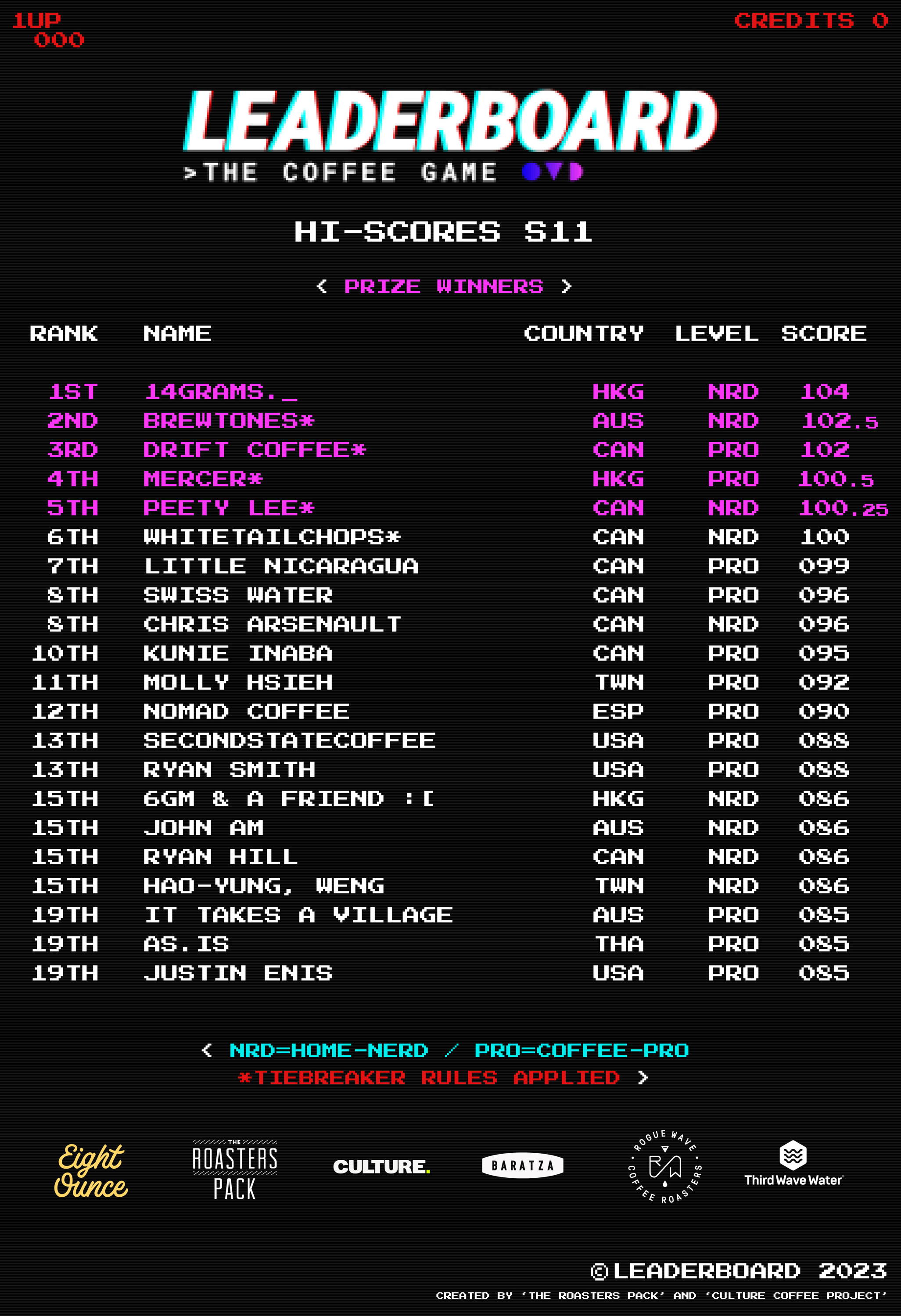 / 01
ILSE COFFEE
Stamford, Connecticut, USA

AREA: Americas
COUNTRY: Costa Rica (West Valley, Naranjo, Lourdes de Cirri, La Isla, Luis Jiménez Padilla)⁠
VARIETAL(S): SL28
PROCESS: Honey (Red Honey)
DECAF: No
ALTITUDE: 1500 masl (Below 1600 masl)
ROASTER: Air/Hybrid (Loring)

>> reveal video <<


/ 02
DAK COFFEE ROASTERS
Amsterdam, NETHERLANDS
AREA: Africa
COUNTRY: Ethiopia (Gedeb, Gedeo, Yirgacheffe, Chelbesa, SNAP Specialty Coffee)⁠
VARIETAL(S): Wolisho + Dega⁠
PROCESS: Washed
DECAF: No
ALTITUDE: 2000 masl (Above 1600 masl)
ROASTER: Air/Hybrid (IMF; awarded points for both)

>> reveal video <<
/ 03
SETH TAYLOR: COFFEE BY DESIGN
Toronto, Ontario, CANADA
AREA: Asia
COUNTRY: Indonesia (Bali, Kintamani, Batukaang, CATUR, So So Good Coffee Company)⁠
VARIETAL(S): Kartika
PROCESS: Natural ('KAMALA' Natural Anaerobic)
DECAF: Yes (Swiss Water Process)
ALTITUDE: 1200-1500 masl (Below 1600 masl)
ROASTER: Traditional Drum (Diedrich)

>> reveal video <<
/ 04
QUIETY COFFEE
Stirling, Ontario, CANADA
AREA: Africa
COUNTRY: Kenya (Nyeri County, Karindundu, Barichu, Gatomboya)⁠
VARIETAL(S): SL28 + SL34
PROCESS: Washed
DECAF: No
ALTITUDE: 1700-1800 masl (Above 1600 masl)
ROASTER: Traditional Drum (Probat)

>> reveal video <<

/ 05
MORGON COFFEE ROASTERS
Gothenburg, SWEDEN
AREA: Americas
COUNTRY: Colombia (Huila, Palestina, Finca El Porvenir, Sandra Milena Mora)⁠
VARIETAL(S): Tabi
PROCESS: Washed
DECAF: No
ALTITUDE: 1700 masl (Above 1600 masl)
ROASTER: Air/Hybrid (Loring)

>> reveal video <<

/ 06
THREE MARKS COFFEE
Barcelona, SPAIN
AREA: Africa
COUNTRY: Burundi (Kayanza, Gihororo, Masha)⁠
VARIETAL(S): Red Bourbon
PROCESS: Washed
DECAF: No
ALTITUDE: 1672 masl (Above 1600 masl)
ROASTER: Traditional Drum (Probat)

>> reveal video <<


/ 07
HATCH COFFEE
Markham, Ontario, CANADA
AREA: Americas
COUNTRY: Colombia
VARIETAL(S): Chiroso (Antioquia, Santa Barbara, Finca Agualinda, Echavarria Family)⁠
PROCESS: Washed
DECAF: No
ALTITUDE: 1950 masl (Above 1600 masl)
ROASTER: Air/Hybrid (Loring)

>> reveal video <<


/ 08
BLUE TOKAI COFFEE ROASTERS
Delhi, INDIA
AREA: Asia
COUNTRY: India (Semmanatham, Yercaud, Tamil Nadu, Riverdale Estate, Prakashan Balaraman)⁠
VARIETAL(S): SLN 9 & 5B⁠
PROCESS: Natural (Anaerobic Natural)
DECAF: No
ALTITUDE: 1400-1500 masl (Below 1600 masl)
ROASTER: Traditional Drum (Probat)

>> reveal video <<

/ 09
ROSSO COFFEE ROASTERS
Calgary, Alberta, CANADA
AREA: Americas
COUNTRY: Brazil (Espirito Santo, Fazenda Um, Stefano & Boram Um)⁠
VARIETAL(S): Catuai 81
PROCESS: Pulped Natural Anaerobic
DECAF: No
ALTITUDE: 1300-1500 (Below 1600 masl)
ROASTER: Traditional Drum (Probat)

>> reveal video <<

/ 10
LUMINOUS COFFEE
Las Vegas, Nevada, USA
AREA: Americas
COUNTRY: Colombia (Tolima, Fresno, El Vergel Estate, Elias & Shady Bayter)
VARIETAL(S): Caturra
PROCESS: Washed (Double Washed CM Koji)
DECAF: No
ALTITUDE: 1350 (Below 1600 masl)
ROASTER: Air/Hybrid (Loring

>> reveal video <<

Compare coffees #08 + #09. Are they FROM THE SAME CONTINENTAL AREA?
No. Asia and Americas.

Compare coffees #05 + #07. Are they FROM THE SAME COUNTRY?
Yes. Colombia.
Select either the LOWEST OR HIGHEST ELEVATION GROWN COFFEE.
Coffee #03 or Coffee #02.
Is there MORE THAN ONE DECAF/LOW-CAF in this season?
No.
Is there A NATURALLY PROCESSED ETHIOPIAN COFFEE in this season of Leaderboard?
No.


*** BONUS STAGE ***

One of these coffees is THE SAME AS THE INSTANT COFFEE - which one?
Coffee #10; Luminous Coffee's Colombia El Vergel Estate Koji Washed.