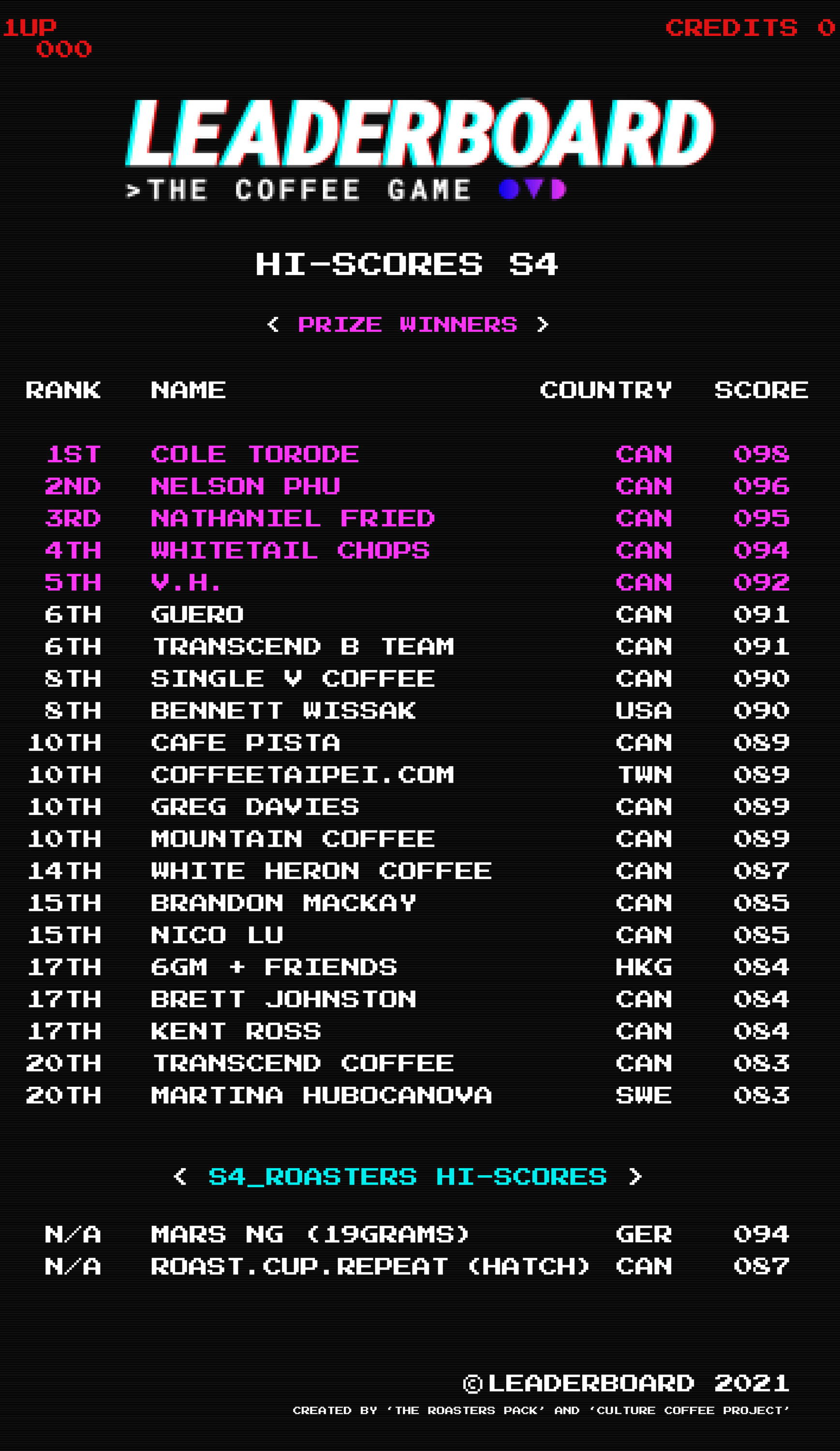 / 01
HATCH COFFEE
Toronto, CANADA 🇨🇦

AREA: Africa
COUNTRY: Ethiopia
REGION: Bona Zuria, Sidama
PROCESSING: Washed
VARIETY: Ethiopian Landraces (74158, 74165, 74110, 7440)
ALTITUDE: ABOVE 1,600 masl (2,100 - 2,200)
DECAF: NO
ROASTER: Air/Hybrid (Loring)

/ 02
BLACK & WHITE
North Carolina, USA 🇺🇸

AREA: Americas
COUNTRY: Colombia
REGION: Fresno, Tolima
PROCESSING: Natural (Anaerobic Natural)
VARIETY: Java
ALTITUDE: BELOW 1,600 masl (1,215-1,450)
DECAF: NO
ROASTER: Air/Hybrid (Loring)

/ 03
PRESTA COFFEE ROASTERS
Tucson, USA 🇺🇸

AREA: Africa
COUNTRY: Kenya
REGION: Ngariama, Kirinyaga
PROCESSING: Washed
VARIETY: SL28, Batian, Ruiru (Peaberry)
ALTITUDE: ABOVE 1,600 masl (1,800)
DECAF: NO
ROASTER: Traditional Drum (Joper)

/ 04
ILSE COFFEE
Fairfield County, USA 🇺🇸
AREA: Africa
COUNTRY: Ethiopia
REGION: Uraga, Guji
PROCESSING: Natural
VARIETY: Ethiopian Landrace
ALTITUDE: ABOVE 1,600 masl (2,100 - 2,350)
DECAF: NO
ROASTER: Air/Hybrid (Loring)

/ 05
94 CELCIUS
Montreal, CANADA 🇨🇦

AREA: Americas
COUNTRY: Colombia
REGION: Neira, Caldas
PROCESSING: Natural
VARIETY: Catiope
ALTITUDE: ABOVE 1,600 masl (1,900)
DECAF: NO
ROASTER: Traditional Drum (Probat)

/ 06
19GRAMS COFFEE ROASTER
Berlin, GERMANY 🇩🇪

AREA: Americas
COUNTRY: Peru
REGION: UNESCO Biosphere Reserve Asháninka Yánesha, Villa Rica
PROCESSING: Washed
VARIETY: Gesha
ALTITUDE: BELOW + ABOVE 1,600 masl (1,600)
DECAF: NO
ROASTER: Traditional Drum (Probat)

/ 07
BACK ROAD MOTOR COFFEE CO.
Port Credit, CANADA 🇨🇦

AREA: Americas
COUNTRY: Brazil
REGION: Cerrado Mineiro, Minas Gerais
PROCESSING: Natural (Anaerobic Natural)
VARIETY: Yellow Catuai
ALTITUDE: BELOW 1,600 masl (1,150-1,200)
DECAF: NO
ROASTER: Hybrid/Air (Loring)

/ 08
QUIETLY COFFEE
Prince Edward County, CANADA 🇨🇦

AREA: Africa
COUNTRY: Ethiopia
REGION: Yeppo Village, Masha, Sidama
PROCESSING: Natural
VARIETY: Ethiopian Landraces
ALTITUDE: ABOVE 1,600 masl (1,690-1,875)
DECAF: YES
ROASTER: Traditional Drum (Probat)

/ 09
KISS THE HIPPO COFFEE
London, UK 🇬🇧

AREA: Asia
COUNTRY: Indonesia
REGION: Kampung Toweren, Gayo Highland
PROCESSING: Natural (Wine Process)
VARIETY: Ateng, Tim-tim
ALTITUDE: BELOW 1,600 masl (1,400-1,450)
DECAF: NO
ROASTER: Air/Hybrid (Loring)

/ 10
DAVID KIM COFFEE
Calgary, CANADA 🇨🇦

AREA: Africa
COUNTRY: Kenya
REGION: Karimikui, Rungeto, Kirinyaga
PROCESSING: Washed
VARIETY: SL28, SL34, Batian, Ruiru 11
ALTITUDE: ABOVE 1,600 masl (1,650)
DECAF: NO
ROASTER: Hybrid/Air (Loring)

Compare coffees #03 + #10. Are they from the SAME COUNTRY?
Yes. Kenya + Kenya
Compare coffees #04 + #08. Are they PROCESSED THE SAME WAY AT ORIGIN?
Yes. Both are Naturally Processed.
Compare coffees #05 + #06. Are they FROM THE SAME AREA?
Yes. Americas + Americas
Which coffee in this season was grown at the LOWEST ELEVATION?
#07.
Brazil 1,150 - 1,200 m.a.s.l.
One of these coffees is PRODUCED BY THE BAYTER FAMILY - IT IS:
#02
There is MORE THAN ONE ETHIOPIAN COFFEE in this season. THERE ARE: 
3. Coffee #01, #04 + #08
Is there a GESHA VARIETAL COFFEE in this season?
Yes. Coffee #06
Is there a COFFEE FROM KAYANZA, BURUNDI in this season?
No.
Is there a COFFEE FERMENTED WITH FRUIT + SUGAR in this season?
No
There are MULTIPLE COFFEES WITH 'EXPERIMENTAL' PROCESSING TECHNIQUES in this season - WHAT IS ONE OF THEM?
#02 + #07 + #09